A quick, monthly running recap of the things I've felt, made, seen and am supporting.


1.2022
All The Things

Almost one and a half years since I last shared anything here. I've had a dichotomous relationship with the concept of "sharing" for a long time. The things I've experienced, seen, felt, and learned - in the last year in particular, have sharpened this. I could tell you about how I completely questioned the majority of the choices I've made in my life, the identity collapse I experienced when I realized that so many of those choices were driven by models and patterns I didn't fully understand. Or we could talk about the loss and lack of safety I felt, which I equate to a betrayal in some ways, from the places and people I expected them to come from first and foremost. I know that this might sound dramatic and vague. What I'm trying to articulate is that this is part of what I was working through, why I turned inward, and what's keeping me in a headspace where I still have more questions than answers.
Lately, I've been thinking a lot about the concept of the
multiverse
. While it's been a thread I've pulled on throughout the years in my creative work - shaping the way I think about storytelling and prototyping (thank you
Rashomon
,
The Five Obstructions
and more recently
Devs
), it has become a lens through which I view and move through the world.
My affinity and conneciton with water has also taught me so much about these ideas and allowed me to put them into practice. Much of my time spent in it requires that I contemplate the various outcomes that might unfold before I take a breath and go under. During a training session with freedive master
Carlos Coste
, he kept reminding me to have a plan - see what I was going to do and imagine myself before I actually did anything. And in reading
All We Can Save
, I couldn't stop thinking about what I learned from the Root chapter. Sherri Mitchell—Weh'na Ha'mu Kwasset, wrote about Indigenous Prophecy and the idea that time was infinite and directionless. I wonder, as we sift through countless decisions every day, some controlled by lizard brain and others more deliberate, what if we made that different choice and the other outcome is actually in play?
Today I realized that it has been 3 months since I last saw the ocean. My truest friends, the ones who know me to my core, are always the first to ask when we talk - what that experience has been like for me since moving to a land locked state (which I did last spring) in the spirit of wanting to support a partnership and build something new together. Like most things we try to convince ourselves of these days against the backdrop of a continued Pandemic, I usually say something along the lines of how
I am FINE! but most importantly GRATEFUL for my job, home, and physical health. Although I miss it there is so much to explore and be GRATEFUL for and I am learning new things and being present and REALLY taking advantage of it all.
Oh and let's not forget a healthy, optimistic serving of that whole "absence makes the heart grow fonder" thing I am settling into.
No longer being able to readily access something that is a part of who I am, how I find peace and more of a home to me than anything else, well yes now I have a totally different appreciation for it and it gives me so much comfort just knowing that it will always be there for me and isn't that a beautiful, amazing and resilient way to look at it??? RESILIENCE. That is what this time has really helped me to practice.
The truth is that I have had my fair share of practicing this my entire life and in the last 2, coming on 3 years, not only did I have to turn it up and into overdrive, I had to teach so many people in my life how to cultivate this for themselves.
I am tired. I am tired of staring at a screen for hours on end and holding people's emotions. I am tired of being a good listener and oh so accommodating. I am tired of doing the constant mental math in every situation when most people around me can't even take the time to ask how my name is pronounced and choose to pronounce it incorrectly instead. Or the fact that they don't ask how I am doing when they know that I recently lost
someone incredibly important to me
.
"Well all that's on YOU isn't it Mykim? YOU need to speak up and communicate what you need in these situations. It's your choice to take care of everything and everyone around you for as long as you can remember so if you are unhappy about the impact of your decisions you need to take control RIGHT???"
As I project what you, dear reader, might be saying in response to my raw vulnerability laid bare, I can't help but think about how I would show up if someone just said everything I said to you to me. Without hesitation and in all honesty- I can tell you that all I would really do is listen. I wouldn't judge or prescribe, I would simply BE there with them. Perhaps the real reason that I cried behind my sunglasses today and pretended I was just cold as I thought about how long it has been since I've seen the sea was actually a result of coming to this realization. The ocean runs through my veins. It is one of the very few things that actually meets me as I am - it does not judge me or ever ask anything of me. It just holds, listens and engulfs.
Throughout the Pandemic, I have been reading and re-reading this collection of interviews by Inodek called
On Surfing
. One of the questions they ask everyone they interview is "How long can you go without surfing?" The various responses helped me get through these last few years when the ocean has been few and far between. It expanded my heart and mind when it came to my ability to shape shift my connection to the sea and I began to think more broadly about water as a whole. And just like the water, these days I ebb and flow. Some days I am feeling purposeful and powerful, others I might as well be a puddle. Sometimes I day dream about what it would be like in the multiverse where I am not living out my identity as a defacto caretaker. In that timeline, I've broken that instinct that has been ingrained in me culturally, societally and circumstantially. In turning inward I have learned so much about my why's and where they come from. I now better understand that these tendencies are tied to ideas that I don't deserve, am not enough and should not take up space in any shape or form. It has been a powerful thing to come face to face with and one that I am still excavating and of course catching myself in the grip of its reflexive hold.
---
8.2020

Personal Things

It's been difficult for me to find the energy to write or create anything unrelated to work these last few months. When things began to unfold in March, I felt energized, and although my head was spinning (as was the case with everyone around me), I relished in the opportunity to make the most of this "moment." The last few weeks have been an entirely different experience. I find myself confronted with an overwhelming amount of isolation, reflection and reckoning, both internally and externally.


The nature of my work requires that I operate at both a leadership and strategic level, but I'm also constantly executing and creating across mediums, projects and teams. Historically, this is something that has defined me and typically "filled me up" as the saying goes. Over the last few months, all I've longed for is focus and depth. And from what I've been hearing from others it's that we're all re-examining what's truly important to us, the values that define who we are and how we can really live them and empower others to do the same.


I've been living in LA since March - and prior to my leap of faith, very deliberate move here in 2019 (in which I changed my whole life to be closer to water I could accessibly freedive in), I had the privilege of mobility - effectively allowing me to be anywhere I needed/wanted for family, community and work.


And for those of you who know me well, you already know I've always felt like the East Coast, particularly Boston, is my true home. Though jobs took me to New York and then LA, I always hoped I would set roots down in a city that was pinned as a place where you go to school, not live in.


Recently I've been asked over and over again - "Why Boston? We thought LA would be a perfect fit for you." Funnily enough, for most of my life, apparently because of the things I've been passionate about that are associated with the place, people have assumed I'm from CA.

When I graduated film school in 2008, everyone I knew left Boston and headed to LA or NY. I chose a different path and stayed. Perhaps this is part of the reason I feel such a deep connection to the city. Beyond building some of the most important communities in my life there, to accessing incredible nature and the cold coast just a short train ride away, being a creative person trying to make work and finding your voice and identity in a place where that isn't the expectation is both exhilarating and exhausting.


And I suppose that is the best way to describe the emotions I have been feeling through the back half of this intense year. Exhilarated and exhausted, moving between these two poles and feeling like I'm caught in the whitewash that sometimes seems endless.


Anytime you are the other in a given homogenous environment, these are the crests and troughs you have to navigate. For me the most prevalent identifiers have been topical things like race, ethnicity, gender or my physical size, to more nuanced and personal markers like my professional creative experience in a field dominated by quorum... or how about that same experience being put through constant judgement in a culture that narrowly defines what is valuable?


On the hardest days, I remind myself that I'm so far from alone. I take great comfort in knowing that these are conversations being had and there is finally a lasting opportunity to connect with "people who look like me."

When I say "people who look like me," I'm not just talking about the physical dimensions of that phrase. I mean those people who have a deep curiosity and array of lived experience that has allowed them to keep riding the waves and show others what they are capable of.


Impactful Things

Below - a visual annotation from
The Outlaw Ocean
by
Ian Urbana
. Exhibition book from Tyler Mitchell's
I Can Make You Feel Good
, which ironically enough is the last in person experience I had with friends in New York before COVID hit. Everything about this approach and body of work is beyond salient and heartbreakingly beautiful. Lastly, a photo of
The Wizard and the Prophet
. A fascinating read about the true origins of luddites and techno-optimists.
---
3.2020
Helpful Things

A LOT has changed over the last few weeks. I take comfort in the fact that I know I'm not alone when I say that the range of emotions I've experienced while navigating this moment in time has been an absolute rollercoaster. I am grateful for the support systems that I have in my life both personally and professionally. And I am deeply, inexplicably grateful for those people who are on the front lines of this day in and day out.
In the spirit of trying to provide support and resources in a moment that feels so incomprehensible and overwhelming, here are a few I put together sourced from conversations, research and my own problem solving over the last month.
Things I Have Found Personally Helpful
Scheduling virtual time with friends and family (game nights, watch parties, etc)

Regularly checking in with people who are important to me

Asking for help/knowing my options when it comes to monthly financial obligations EX: Adobe is offering Creative Cloud credits for the next 2-3 months, options for pausing, discounting or deferring major obligations

Sticking to a schedule and communicating windows of working hours (and how those hours are being spent EX: blocks for calls versus blocks for execution)
Projects/Resources
2.2020
Work Things

Had the honor of participating in a show about making shows with my friends at
Wistia
. We talked about everything from how to get buy in across your company to what it takes to turn your idea into a pitch. Last but not least, we broke down why it's absolutely necessary to tell your story across platforms and how short-form assets can help expand, support, and extend the lifecycle of a single show or video. I'll be sure to share the episodes as they become available.
PS - Being on the other side of the camera is not easy, the Wistia crew made it a breeze for me - so a gentle reminder to be kind and in tune with your talent.
Creative Things

I visited some dear friends in NYC and we went to
Tyler Mitchell
's
"I Can Make You Feel Good"
exhibit at the ICP. I was blown away by the premise of the project. His execution and approach made my heart and mind race. There are countless things to say about the work but his use of perspective (hanging screens from the ceiling and creating 180 walkthroughs) are mind blowing. I cried while laying on the astro turf of the white picket fence, staring up at his imagery moving above me.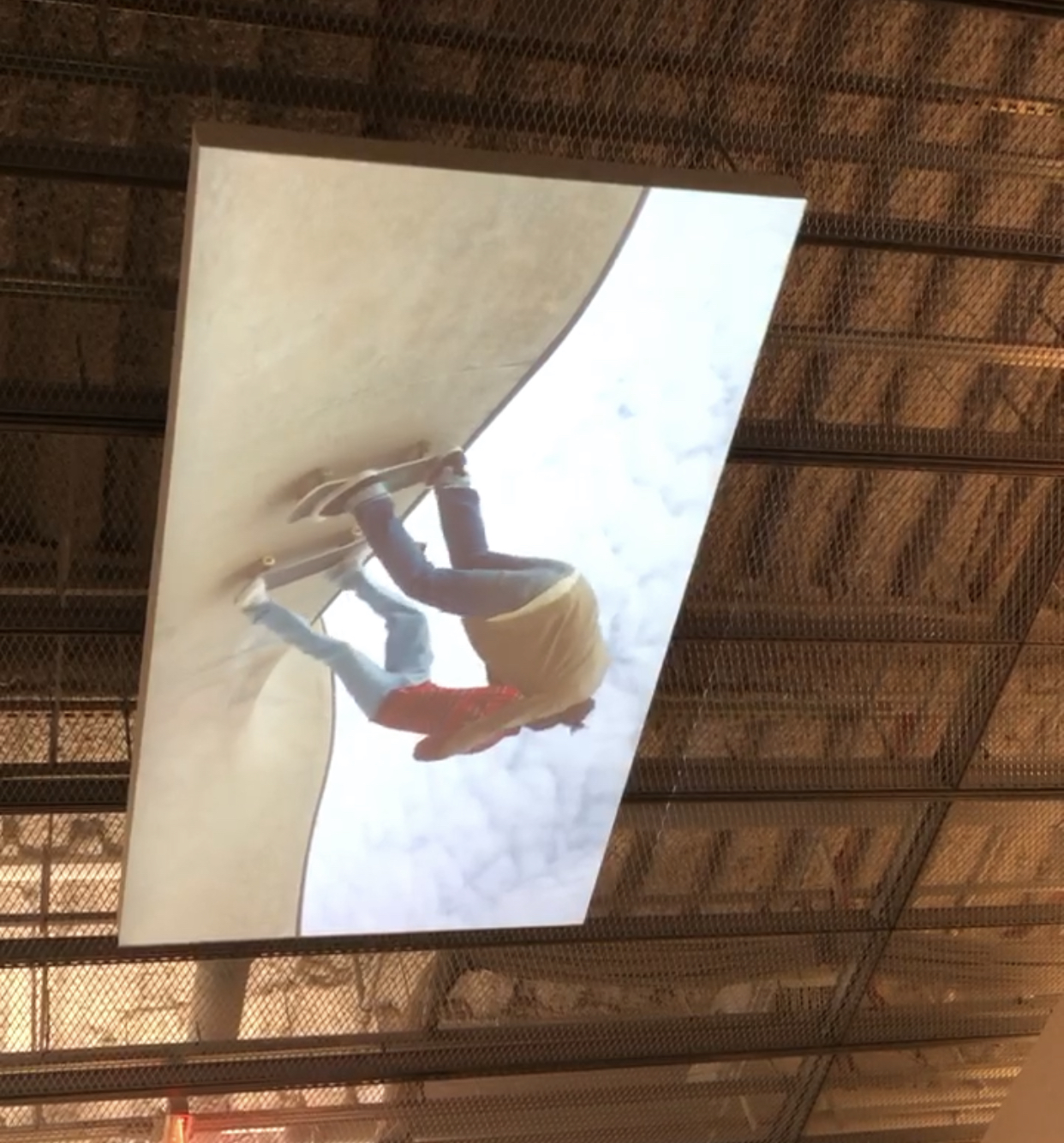 Incredible Things

I am grateful to be surrounded by incredible people doing incredible things that they believe in. This month they include:
WHAT HAVE YOU MADE TODAY?